What does your day-to-day look like? Putting out fires?
Overwhelmed by too many responsibilities?
Worried how you are going to retire?
Don't know how to get to the next level because all of the company's success relies on you?
You need someone else to help you out, but you can't justify the expense of hiring another full-time employee especially with a strategic thinker with a large network. You need a person who you can rely on and who will be there for you to guide and introduce you to new echelons.
As a Former Director of Women's Business Center funded by the U.S. Small Business Administration, I worked with thousands of clients who desired to start a business, but lacked the training, connections, and funding to scale a business.
Business owners with great ideas often fail due to inefficient processes, ineffective marketing, and lack of capital. It was disappointing to witness the majority of these entrepreneurs not get a chance to test out their business idea.
With over 15 years research, testing curriculum, and experience working in or with startups, I created the #CSO Package to give current entrepreneurs a chance to scale their business with the least amount of costs instead of hiring an other employee and providing benefits.
@JudiRheeAlloway: Founder of @womensbizcoop, Leadership Coach and Business Consultant, Imagine Leadership, LLC @ImagineLeaders; and Founding National Director Emeritus of Women in NAAAP! @WomeninNAAAP, an international Asian women's leadership program covered in Forbes Women.
Chief Strategy Officer Packages
The Chief Strategy Officer Packages are created by one of the top American women innovators nominated by the U.S. Department of Labor and an entrepreneurial curriculum consultant for Thunderbird School of Global Management, #1 Program Quality Executive MBA, The Economist, 2015#1 "International "Full Time" MBA Business School, and #4 Best Business School – International Speciality, according to U.S. News & World Report, 2014 & 2018.
"Over 56% of businesses fail in the first 4 years." – U.S. Small Business Administration
It's Beyond Coaching & Consulting
The Chief Strategy Officer Package allows you to alleviate your stress with an experienced professional who will work alongside you.
You'll get your business operationally ready for the next steps.
From the launch of a new product or service to a strategic sale, you'll be poised and ready for success.
It's that energy of someone who cares about your success and your business backing you with experience, teaching you new skills, and introducing you to people to help you.
It's Your Own Personalized MBA Program
A Chief Strategy Officer assesses where you are now and can offer multiple plans to get you going. We look at your business inside and out while training you to become a bet ter leader in these functions:
| | |
| --- | --- |
| 1.Branding | 2.Marketing |
| 3.Culture | 4.Operations |
| 5.Model | 6.Funding |
It Doesn't Have To Take $15,000+ To Write One Strategic Plan
We will create a system with goals, strategies and action steps to get you where you are going. Along the way, you'll be coached on the times when you don't reach your goals to help you gain a deeper understanding of what's stopping you.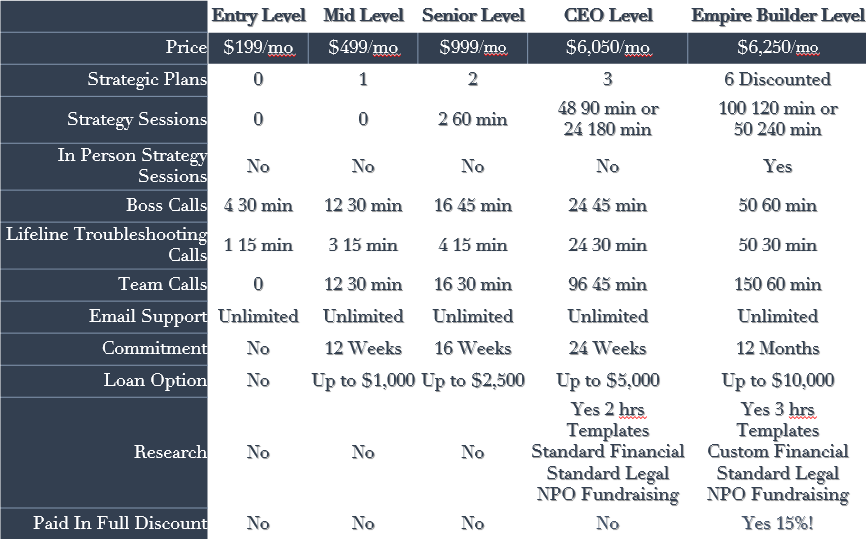 Paying a Chief Strategy Officer is approximately $234,000, not including benefits. The average cost for a company to hire a full-time Chief Strategy Officer is about $292,500 per year.
Paying a contract CSO less than $40,000 for 6 months minus benefits is a reasonable alternative to hiring a full-time executive level W-2 employee. After hiring a CSO, new systems are put into place to then hire a lower cost employee to maintain.
How would it ease your stress to know that someone has your back?
How valuable for you to have someone to help you every step of the way for the next month, 3 months, 4 months, 6 months or the entire 12 months?
As we already know, not everyone will sign up, not everyone has the money to afford a CSO package, and not everyone wants to get out of her or his own rat maze.
Some people actually like her or his own squeaky hamster wheel, it's too scary to change. Even though, they know it's not working. Your comfort zone at least feels familiar.
You don't know what you would do with your time and money without tending to your business?
What would you do if money just came to you without much effort?
I am not into depleting your cash flow; I am here to better manage your cash flow. I only want to work with people who understand the value of investing in their lives and in their business.
Therefore I only work with up to a limited number of clients at a time who can pay the monthly retainer in advance of services. Also my clients set their own agenda and are responsible for their own success.
Chief Strategy Officer Package
YES, I am in and hiring Judi Rhee Alloway and the Imagine Team at Imagine Leadership, LLC, to become my company's Chief Strategy Officer! I am ready to be coached, consulted and mentored for my business to benefit from her research, her experience, her advice, and her network.
I know that the Chief Strategy Officer Package payment is investment, a monthly retainer, and that a payment plan is possible. I've reviewed the month to month, 3 month, 4 month, 6 month, 12 month, and paid in full options on www.chiefstratofficer.com.
After thoroughly reviewing, I will fill out and submit the application in the next 48 hours. After it is received, Judi and the Imagine Leadership, LLC team will discuss and contact me in 2 business days. My credit card is charged per the agreed month to month, 3 month, 4 month, 6 month, 12 month or paid in full terms.